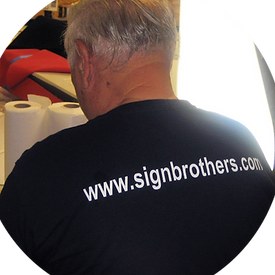 Discover
More About Who We Are
For almost four decades, our mission has been simple. Always be honest, work hard and deliver a quality product. If you are looking for a company that will "work with you, beat that impossible deadline, and fit your budget," then you came to the right place.
Established in 1983, The South Shore Sign Company – a.k.a. SIGNBROTHERS, has been family owned and operated for over 3 generations, with a focus on offering service that is second to none. Our company offers a cutting-edge approach to fulfilling the signage and graphic needs of businesses all throughout the United States. We are excited to collaborate with clients and work to provide solutions that are custom-tailored to each business.
The South Shore Sign Company plans to continue offering quality services while learning to implement all of the latest technologies for years to come. We value our relationships with our customers, making each project less about turning a profit, and more about keeping our client's budgets and deadlines in mind from start to finish. We're looking forward to working with you.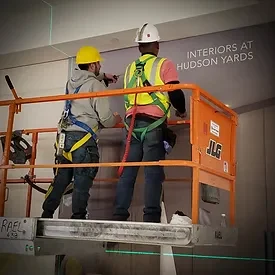 We stay consistent with our methodology – "be fair, work hard and deliver a quality product!" We believe that every job is an opportunity. Whether it's a client with an idea or an established brand looking to expand nationally, we want to be part of that vision and be part of its success. From sign permitting to project management, we offer a myriad of signage and graphic services - these include:
Operating on our Vutek UV Printer Line, we can print up to 16ft wide by your desired length at super high resolution.
Wide Format Flatbed UV
Printing

(Wood, Metal, PVC)
We can direct print to many substrates including Polymetals, PVC, Wood, Acrylics and more.
Sign Permitting,
Planning & Surveying
Have a scope of work? Need help formulating one? We can help.
Call us at 732-583-5624 or email us at: team@signbrothers.com to schedule an "in house" appointment or virtual meeting today! We can also explain and process what is needed to file and receive a complete signage permit. At the very least, you will become familiar with the process and understand what is needed.
Wayfinding
Signage Systems
Site development, new construction, or a complete signage refresh will always require a solid and clear plan for wayfinding. Getting from point A to point B has never been easier. The South Shore Sign Company can design, fabricate, and install an entire signage program for your project. References and samples are always available.
Pylon Sign
Design & Installation
Impactful signage not only illuminates or directs the way to a destination, but it can also define it. Custom pylon signage is critical to the look and feel of a center. The Signbrothers' will create a design and render what it will look like in the space. Whether its' a rebrand of an existing pylon, a LED retrofit, or a new pylon install, we will take the time to go through the entire process with you and provide a cost summary/schedule that is realistic and attainable.
Illuminated Channel
Letters & Cabinets
Front Lit, Reverse Halo, Deep Pan, Low Profile or Rimless Channel Letters are custom made by our team. We are proud to be a UL shop and stand by our work. We install premium LED modules and use quality acrylics, metals, and painted finished to achieve a beautiful aesthetic.
Barricade & Wallscape
Design & Installations
The Signbrothers offer a wide array of wall-based vinyl graphics including 3M UV printed barricade graphics, diecut vinyl graphics, textured Dreamsuede Products, DiNoc Brands, Etch Glass Vinyl, and more.
Scrim Blockout &
Mesh Banners
We offer high-quality full color UV printing up to 16ft wide on mesh, scrim smooth blockout, canvas, and more. We also provide most finishing methods from tension frame applications to grommet-based installs.
Custom
Architectural Dimensional Signage
Routed Metal, Acrylic, PVC, and HDU substrates offer strong durability and offer versatile use in various sign applications. These types of signs work effectively for anything from dimensional letters to monument signs.
Retail
Storefront Signage
Your storefront is often your first impression on a potential customer. The right signage can make a world of difference when it comes to communicating with your customer base. Let the SSSC team help you get it right the first time. We will survey, render, and propose a signage layout that not only works but conforms to any local codes or existing signage standards guide.
Whether it's Daktronics, SNA, Watchfire, Samsung, or another LED product, the South Shore Sign Company can custom fabricate and install a digital spectacular for your space. Having fabricated and installed the first rotating digital spectacular in the US back in 2009, we continue to install these large displays in several retail centers throughout the United States.
Overhead
Directories & Blade Signs
We fabricate all types of illuminated and non-illuminated directories and blade signs. These overhead signs help to point clients and other foot traffic in the direction of your store. Lollipop, Flag, and Totem are just a few styles we offer. A detailed survey with a proper engineered attachment method is critical for the success and longevity of these types of signs.
Parking Garage Signage &
Directional Systems
Over the years, we have produced and installed many parking wayfinding signage and systems including; Automated Park Assist Programs, Clearance Bars, Custom Overhead Entrance / Exit Signage, Handicap & Traffic Parking Signage, 3M Cement Vinyl, Custom Reflective Column Signs, Elevator Parking Surround Signage, Maps, etc.
We are manufacturers of architectural ADA signs with grade 2 Braille that is fully compliant with all Federal ADA Accessibility Guidelines. We utilize state-of-the-art CNC-controlled equipment to provide you with the best possible product at the best possible unit cost. We offer cutting-edge 3D print layering for rapid ADA turnaround.
3D Layering  
UV PRINTED Products
The SSSC team can produce durable and dynamic TEXTUR3D effects, photo-quality prints, and fine detail marking across a wide range of substrates. With new technology features like "multilayering" direct printed materials can now benefit from raised textured elements like never before.
Dye Sub Stretchy Fabric Graphics make retail and seasonal signage ultra-customizable and easy to change out with new graphics. No tools or special expertise is required to make a change out with this lightweight material. The SSSC digitally prints to fabric and then sews a thin silicone band to the edges of the graphic. The silicone band is inserted into a small groove in the face of the aluminum frame. SEG provides a modern, bold, seamless and visually frameless display.
Our signs use the strict 3M Matched Component System for Traffic Signs and include a 3M approved laminate for additional graffiti and UV resistance. That means that your signs are guaranteed to last.
Vacancy Management
Graphics
If you are a property manager and you have retailers who are no longer in business, look no further. The Signbrothers can design a custom graphics plan that meets your needs and may help attract new tenants. Utilizing the "as is" space instead of erecting a barricade can save time and money. Inquire at team@signbrothers.com today to begin the process of putting the "NO" back in vacancy.
We offer full 24/7 project management services with a keen eye for details, schedules, and project execution. You will always have access to our project managers and ownership during the entire process.
Sign Engineering &
Shop Drawings
We have seasoned sign professionals on our staff who are well versed in providing proven methods for sign design, fabrication, and installation to every project. Our experience ensures that "Best Industry Standard Practices" are present in all production drawings as well as any permit/engineering submittals. We strive to provide the most impactful as well as detailed signage renderings possible. We offer 3D and 2D renderings and can also provide photorealistic signage renderings in scale using our SPIKE system.
Exterior & Interior
Framing Systems
Looking to install a graphic with a framing system? Looking to advertise in a particular space? Our framing systems are stylish, beautiful products that provide an easy way to swap out graphics. Whether it's fabric, scrim, duratrans, canvas, or posters, our systems have proven to be effective and long-lasting both interior and exterior. Beautify your lobby or building today. Call us at 732-583-5624 or email us at: team@signbrothers.com
Want a unique look for a sign but haven't seen anything like it in the marketplace? Let's talk. We can design and prototype any idea. We stand by customer NDA's, patents, copyrights, and trademark agreements. Feel free to give us a call at 732-583-5624.
We have an ever-changing custom product line. Click here to see the latest products by our team.